Our vision and ethos towards wellbeing
There is growing awareness of the impact wellbeing has on individuals, organisations and society. As a leading charity, British Safety Council launched its Keep Thriving campaign to ensure wellbeing is fully understood and integrated within the strategic objectives of all organisations, and their workplaces. However, British Safety Council believe that there should be parity for mental wellbeing and physical health, and it should be all our ambitions to achieve this.
Being Well Together from British Safety Council is here to help and brought to you with support from our award-winning sister mental wellbeing charity, Mates in Mind. The Being Well Together Programme is a 1 or 3 year programme, where organisations, known as Supporters, are guided to create, implement, and maintain a health, safety, and wellbeing strategy. This includes having access to an online portal (Resource Hub) and a Support Manager. It is available from both British Safety Council or Mates in Mind.
Being Well Together is not just the name of the Programme though, but also the wellbeing brand of British Safety Council, which includes a whole host of services including audit, consultancy and training.
We are looking to help organisations put wellbeing at the heart of their future strategy, recognising that almost all of the domains of wellbeing can impact, directly or indirectly, on the risk of accident or injury in the workplace.
We have used the Theory of Change methodology to guide our thinking around health, safety and wellbeing. The following infographic summarises our roadmap, showing how our charitable and commercial activities are designed to support the Keep Thriving wellbeing campaign.
Ultimately, we are looking to help workers thrive!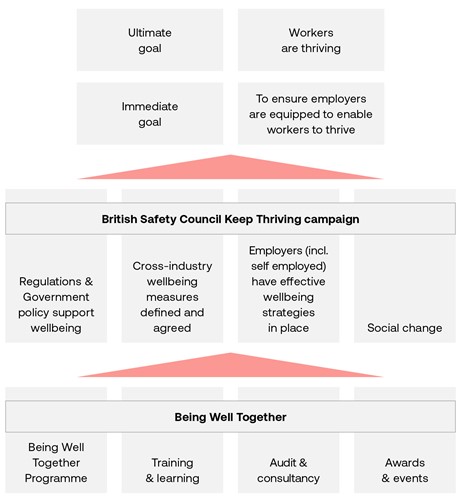 To find out more call us on +44 (0)208 600 1000
We recognise there's a lot that happens in the workplace which has an integral impact on wellbeing, be it the environment, the culture, the facilities, inclusion and acceptance, the quality of work and the leadership within the organisation.
Done well, wellbeing protects both the long-term health of an organisation and its workforce, as it improves performance, culture and motivation which supports productivity and profitability.
Wellbeing can also reduce costs linked to absenteeism, presenteeism, disability, ill-health and staff turnover. To achieve maximum benefit from wellbeing it must be an integrated approach encompassing health, safety and wellbeing best practice.
Our goal is that workers thrive in a wellbeing-driven environment
We believe that harnessing the skills, talents, individuality, and contribution of every employee should be at the heart of a successful business.
It involves employers, government, and society really valuing and understanding best practice in wellbeing.
This will require behavioural change and a change in the national cultural mindset fit for the future workplace and economy, dispelling myths, challenging taboos around mental health and combating old fashioned attitudes.
Small, but consistent good habits and promoting the tangible benefits ultimately lead to results that may seem unachievable at the outset. It means that leadership, commitment, and accountability for health, safety and wellbeing comes from the highest levels within an organisation.
It demands true understanding and commitment by organisations to wellbeing and associated practices and measures that are appropriate, with workers actively involved in the development of an integrated health, safety and wellbeing strategy.
To ensure wellbeing is fully understood and integrated within the strategic objectives of all organisations, and their workplaces, British Safety Council is calling on national and local government, the Health and Safety Executive, businesses of all sizes, workplace charities, trade unions, professional bodies and third sector organisations to commit to our Keep Thriving Manifesto.
We are calling on all organisations to:
Adopt a holistic approach to health, safety and wellbeing, focused on training people to enable prevention and avoid poor wellbeing.
Appoint an executive director responsible for wellbeing, acting as a sponsor driving change.
Actively engage employees in determining workplace wellbeing interventions that work for them.
Make wellbeing an integral part of their culture and the way that they operate, ensuring policies, practices and risks are assessed with preventive measures in place.
Provide wellbeing training to all line managers, so they have the confidence to communicate with employees with care and sensitivity and can direct employees to relevant support mechanisms.
Make monitoring and reporting of wellbeing simple and integrated into an existing system and be meaningfully reviewed at the highest levels.
Evaluate the impact and efficacy of their wellbeing interventions on a regular basis, to ensure they adapt and respond to the changing needs of their workers.
Include wellbeing as part of their health, safety, environmental, social, and governance (ESG) criteria.
Now is the time for all organisations to invest in wellbeing – there is a moral and ethical duty on all employers and leaders, the impact of not doing so has been brought into sharp focus by the global COVID pandemic, with a rising number of workers reporting that their mental as well as physical health and wellbeing, in its entirety, is suffering.
This must change – the link between health, safety and wellbeing and productivity is strong and undeniable. A well worker is a productive worker.
Find out more about our Keep Thriving campaign here.
Testimonials
"When the Being Well Together Programme launched, we were keen to get involved. It offers us baseline data in terms of our current performance, and a comprehensive structure to help prioritise our future actions. The team have been very supportive."

Tracy Vernon Director of Marketing and Communications, Shawcity Ltd

"The Being Well Together Programme has been really useful for our company. Our Support Manager is very passionate and helpful, and has helped us with a recent survey to see what we're already doing well, and also how we can improve in the future. "

Catherine Doble Merck: Sigma-Aldrich Company Ltd